Thursday, January 06, 2005
Look who won Kevin McCullough's "Caption Hugh Hewitt" contest
A belated thanks to Kevin McCullough and all who participated in his CAPTION HUGH HEWITT contest. Though Kevin had urged a blogpile on Hugh, as the entries rolled in it became clear that the scene had been stolen by Hugh's producer, the one and only Generalissimo Duane of Radio Blogger, Well, the scene wasn't exactly stolen by Duane, but by one of his accessories: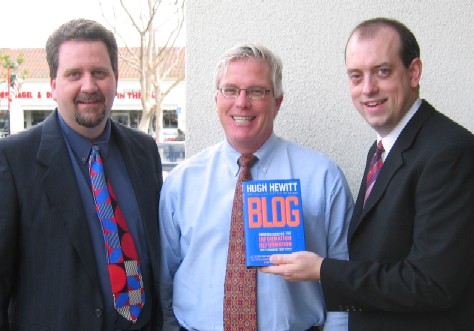 The top vote getting caption was:
"Kevin, I appreciate the photo-op, but please get your hand off my wallet."
~ Eric/Evangelical Underground

The blog that Eric operates is a very good compliment that you should add to your reading - particularly if you are of evangelical persuasion.

Congrats Eric. Your book will be coming soon.

The favorite caption as determined by the judges was:
"BUY BLOG or Duane wears this tie again."
~Sabertooth/Los Angeles, California

Silly me, I'm such a novice I forgot to self-promote my blog.
Thanks Judges!
---